Release Date: July 28th 2017
Publisher: Troubadour Publishing
Pages: 273
Find it On: Amazon. Goodreads
Source: I was kindly sent a copy of this book by Bookollective for this blog tour.
Synopsis:
What if all brain disorders were treatable? No one would lament the passing of dementia or autism, but what if the twisted mind of a sex-offender or murderer could be cured too? Or how about a terrorist or maybe a political extremist? What if we could all be 'corrected'?
So, Professor Savage has been unmasked as the monster Alex Salib always knew he was. But what was their agreement and why is she still determined to see it through? The war on terror appears to be back on track but why does President Kalten seem hell bent on ramping it up – are the Americans seriously intent on starting World War Three?
And what of the treatment itself? Despite Savage's arrest, the 'corrections' go on but to what end? The laws of unintended consequences are about to cause a seismic shift in the very nature of our existence. But then our new masters know that and won't let it happen until we're ready…
…Ready to accept the unacceptable.
Review:
Welcome to my stop on The Final Correction blog tour, run by the lovely folks over at Bookollective! The Final Correction is the third book in the Condition series, ending a trilogy of mysterious medical thrillers. I really loved the premise, the idea that brain disorders were treatable. But it's so much more than just treating brain disorders, those with thoughts that are not what society wants them to be – murderers, those with extreme views, their 'brain disorders' can also be treated. I think with the advancement of technology and how rapidly medicine is advancing this is quite a realistic premise, and as a result that made the book even more enjoyable because it felt infinitely possible.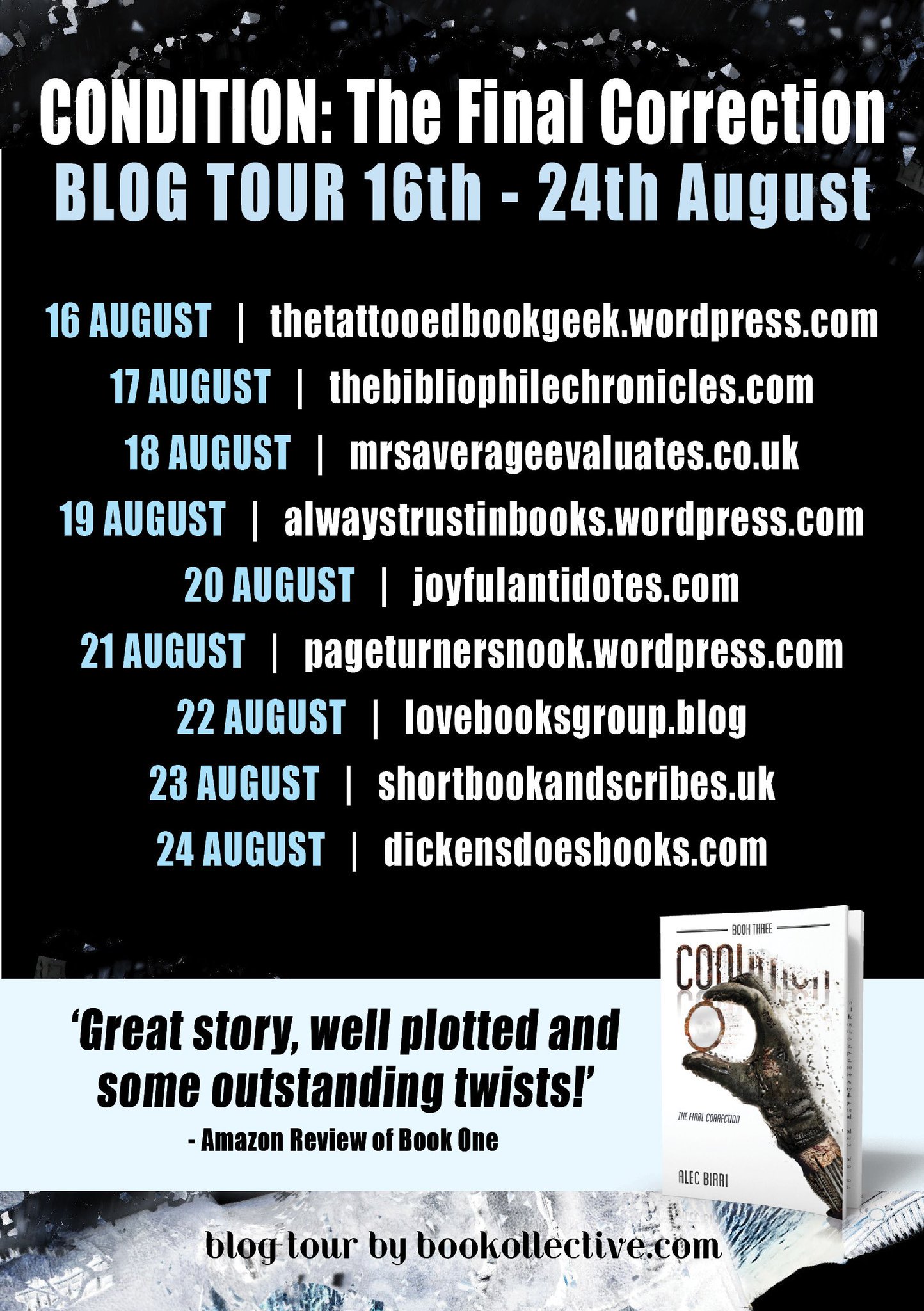 As stated this is the third book in the series. I haven't personally read the other two books, and this one can be read as a stand alone. After having read the book I do feel like I'd like to go back and read books one and two, because although I enjoyed the story I felt there were some things I had missed out on in the first parts of the series.
The one thing about this book is that it constantly surprised me. Just when I thought I knew where things were headed, they twisted off in another direction. It's a really enjoyable story, and the more you read the more intrigued you get – as the reader you definitely want to know more. The book is well written and paced excellently, giving the reader time to comprehend the multi-layered plot that is going on. Although there aren't too many characters, they are very well portrayed, showing plenty of depth and emotion.
After finishing the book I went to do a little research before I wrote my blog post and was stunned to find that this series is actually based on the authors own experience in command of a top secret government organisation. For me this made the book all the more frightening and realistic. If that doesn't give you food for thought, I don't know what will!
Thanks for checking out my stop on The Final Correction blog tour, be sure to check out the other stops listed on the banner above!